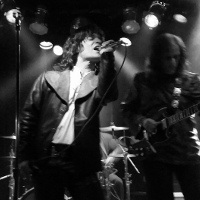 Strange Days
Tribute to the Doors
Strange Days is a nationally touring Doors concert experience. Formed and based in Los Angeles, California, Strange Days is the most realistic and impressive Doors tribute act in North America. They capture the magic…the mystery….and the madness of the Doors in their prime.
By combining vintage instruments with the latest technology, Strange Days offers both an authentic on-stage look and an unmistakable studio album sound. The result is truly a one-of-a-kind show that has packed venues all across the U.S.
Strange Days is such a stunning tribute that Doors guitarist Robby Krieger has joined them onstage numerous times. Rarely, if ever, do tribute artists get to play with the actual legends to which they pay homage.
SHOW MORE »