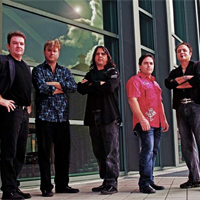 Odyssey Road
Tribute to Journey
The ultimate Journey tribute band, Odyssey Road was formed with only one intention: To perform the greatest hit songs ever recorded by the legendary rock group Journey, as a tribute to the amazing music they created.
There is no intention of trying to pass off as a look-a-like to the original artist.
Odyssey Road possesses the passion to perform Journey material with the feel and energy that would have even the most loyal purist begging for an encore.
You will not find another Journey tribute band that reproduces the music and vocals with such precision and detail in a live show.
As fans of Journey, this five-piece powerhouse vocal quintet captures the influence of the music and style of the legendary group "Journey".
SHOW MORE »