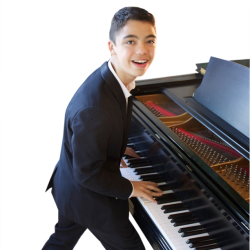 Ethan Bortnick
Pianist, Composer, Singer, Entertainer
Recognized by the Guinness World Records as "The World's Youngest Solo Musician to Head-line His Own Concert Tour," Ethan Bortnick has been performing around the world, raising over $40,000,000 for charities across the globe.
He's shared the stage with artists such as Elton John, Andrea Bocelli, Beyoncé, Josh Groban and Reba McEntire, among many others. In 2010, he joined some of music's biggest names – including Barbra Streisand, Tony Bennett, Celine Dion, Carlos Santana, etc.., as the youngest of the all-star lineup that recorded "We Are the World 25 for Haiti".
Billy Joel's Musical Director, Dave Rosenthal, renowned globally for his work with Billy for over twenty years is also Ethan's Musical Director.
Ethan has performed at venues around the globe, charity functions, performing arts centers, large arenas with over 70,000 people and for Ethan, the most fulfilling aspect of success is bringing people joy. "When I perform at someone's home or in a huge arena, I just love every moment of it! When I see the audience enjoying the music, having fun, smiling and dancing, there's just nothing better that that!" he says.
SHOW MORE »