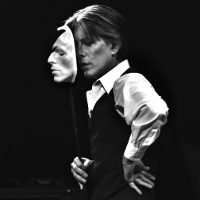 David Brighton's Space Oddity
The Ultimate David Bowie Experience
"David Brighton has the voice, moves and look to actually step in for David Bowie if he were unavailable and few would ever know. The band members are not only accomplished musicians, but they have nailed the original arrangements down perfectly. Experiencing Space Oddity made for a truly remarkable evening." -Harry Maslin, Producer of David Bowie's "YOUNG AMERICANS" & "STATION TO STATION" Albums.
This full scale stage production is complete with flamboyant costume changes, elaborate staging, perfectly emulated vocal stylings and one of the best backing bands in the business. All of the many faces David Bowie are present… from stadium-sized pop phenomenon, to space-age rock and roll alien Ziggy Stardust… and so is the excitement and electricity.
David Brighton is credited as being the world's best David Bowie impersonator, with one of the most entertaining acts ever to hit the stage.
Brighton's credits include performing side by side with David Bowie himself in the TV commercials for Vittel Mineral Water and for Reality – Bowie's CD. Brighton has performed as a resident cast member of the world famous Legends In Concert – Las Vegas production show. He was also cast to portray David Bowie in the Warner Brothers feature film, The Watchmen. He also appeared as David Bowie on VH-1 television as well as in international pop star Shakira's concert video.
SHOW MORE »