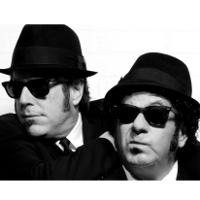 Briefcase Blues
The original, LIVE concert tribute to Jake, Elwood and "The Blues"
BRIEFCASE BLUES™ was – and IS – the first-ever tribute band to the characters of "'Joliet' Jake Blues" and "Elwood Blues" as created by Saturday Night Live comedians John Belushi and Dan Aykroyd.
The act first broke on the scene in September of 1983 in Dallas, TX (the group's home-base), and has been making crowds jump and shout throughout THIRTY YEARS of powerhouse performances, both in the U.S. and abroad. Backed by a 4-piece rhythm section and three to four-piece horn section, BRIEFCASE BLUES™ consistently delivers a high-energy, knockout show for audiences of all types – true to the original act.
Highly regarded by their peers, BRIEFCASE BLUES™ boasts a world-class lineage of first-rate musicians. The ranks of past (and present) sidemen have included members of The Stan Kenton Orchestra (trombonist Curtis Fox and trumpeter Galen Jeter), the legendary Hollywood Horns and the George Harrison Band (saxophonist Alan Beutler) and the Edgar Winter Group (drummer Rockin' Rick Latham and bassist Robert Ware).
While a headliner act in its own right, BRIEFCASE BLUES™ appearances have included billings alongside WAR, The Young Rascals, Kool & The Gang, Joe Walsh, Foghat, Spencer Davis, Jefferson Starship, and comedians Dennis Miller, Cheech & Chong and SINBAD.
SHOW MORE »